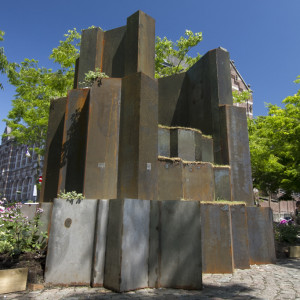 1715 is a steel sculpture located in the city of Ath, in Belgium. This sculpture was commissioned to honor the 300th anniversary of a local legend named Madame Goliath and as a public monument at the Triennale de l'Art et du Vegetal, in June 2015.
1,200 kilos of steel sheets were used to create this sculpture, which was welded at the Academie Royale des Beaux-Arts in 8 different sections to be transported and assembled in the Promenade du Roi Baudoin, a public plaza in the city of Ath.
One of the main features of this sculpture is that any passerby can stand on it to "become a giant" and look at the city from a different perspective. The original drawings as well as the elaboration pictures can be found within this post:
The sculpture can also be found on Google Maps and T-IL, the first 100% personalized travel app.
The creation process for this steel sculpture can also be seen in the video below: